Welcome to Soul-Centered Woman
You are a magical, miraculous woman capable of so much more than you've allowed yourself to be. Soul-Centered Woman is a private coaching program designed to help you remember who you are and align with your highest, truest self.
Feel like there's an untapped part of you that's yearning to be expressed?
Just below the surface there's a dream, a mission, a liberated version of you…a call to something more.
You know you are here to make waves, to shine, and to fully embody yourself and your soul's calling.
This is your time to RISE and you know it. You can FEEL it.
But something is holding you back.
You want to take a leap of faith. You want to follow your soul. You want to fully step into who you came here to be. You want to FLY, but fear and doubt keep reminding you why you can't, why it's not safe, how you'll fail, how you will be judged, and who you will disappoint.
And so you stand at the precipice of something great…toes curled over the edge, never moving forward.
That's where I come in…
I'm here to help you transcend fear and doubt so that when those thoughts show up, they never again hold you back from pursuing your Holy YES life and fully stepping into who you came here to be.
I'm here to empower you to claim your divine worth and help you remember just how sacred you are.
I'm here to give you the tools to set yourself FREE.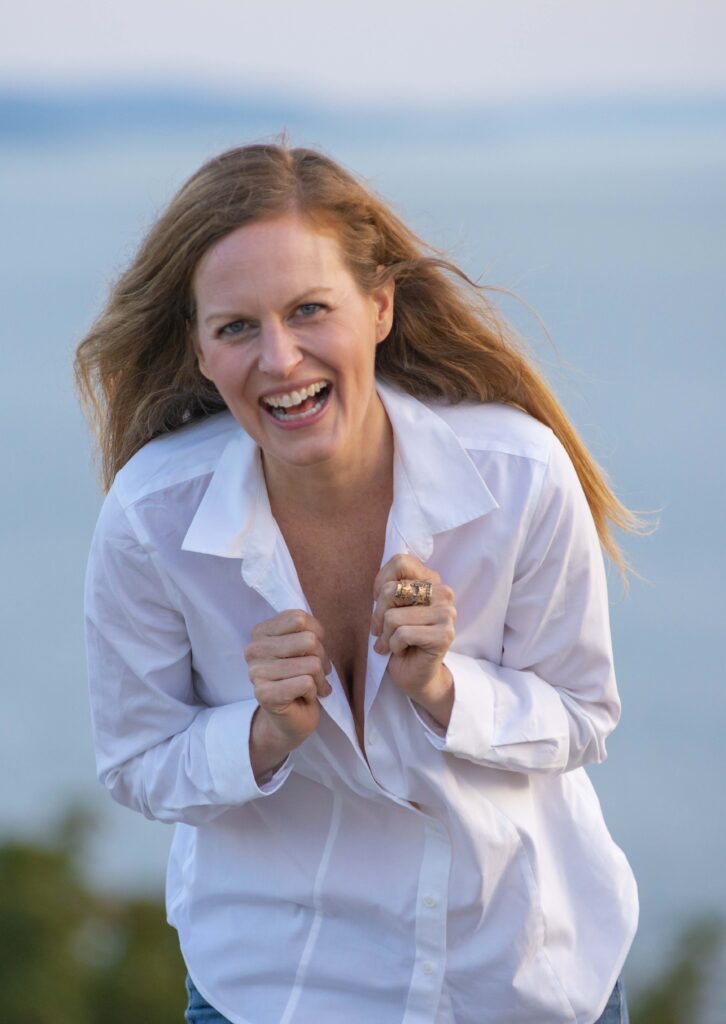 I am a woman on a mission – to activate 1 million women to raise the consciousness of the planet.
I believe it all starts with inner transformation. When we align with our whole, worthy, authentic self, our outer world dramatically improves.
I discovered this for myself 20 years ago when I left an abusive relationship and an unfulfilling career, and realigned my life with my divine worth.
I now share the wisdom and lessons I gained from my journey with women around the world.
My proven soul + science methodology combines spirituality, science, nature-infused spiritual practices, and strategy into a powerful formula that has helped hundreds of women transform their lives. 
Backed by a Master's degree; a certification in life coaching; extensive training as a spiritual director; and 15+ years of experience as a nonprofit executive, I help women remove blocks they aren't aware are there and magnetize Holy YES lives with ease.
Curious how I support women with this? I'd love to show you!
SOUL-CENTERED WOMAN: 1:1 PRIVATE COACHING PROGRAM
Soul-Centered Woman is my exclusive 1:1 coaching intensive, personalized for the woman who is ready to awaken her Highest Self, activate her soul's calling, and create a Holy YES life by tapping into her highest vibrations. This program is for you if you are ready to courageously explore your innermost being, heal the things that have been blocking your brilliance, and confidently step into your worth and soul's mission.
During our sacred time together, you will...
Discover what makes you…you, and learn how to confidently and consistently embody your true self. 
Fall in love with your sacred self so you can fall in love with life.
Identify and heal patterns, beliefs, and blocks that have been holding you back. 
Awaken the part of you that's yearning to be expressed through nature and spiritual practices.
Learn how to partner with your feelings and strengthen your intuition so you can be guided to your absolute best.
Make life sacred again by being present and seeing beauty and miracles in your everyday.
Live life to the fullest by learning the art and science of listening to and following your soul.
Get crystal clear about what you want most in your life and feel empowered to move towards your dreams.
Activate Your Soul: In this deeply immersive activation, assessment, and intention setting session, I will guide you to tap into your innermost being to activate the part of you that's been dormant. We will discern your goals, unlock your dreams, and set your intentions. Together, we will get crystal clear on what's been preventing you from living your Holy YES life – blocks you didn't even know were there.
Weekly Private Coaching Sessions w/Jennifer: These 45-minute, 1:1 sessions will be held via Zoom. These sessions will support you in making the inner shifts necessary to make a quantum leap towards who you came here to be.
Access to Coaching Call Replays: With full access to your coaching calls, you can replay the lessons anytime you'd like. Repetition helps form new, empowering beliefs. 
Unlimited Voxer Access to Jennifer: If anything comes up in between our sessions, don't worry! You will have full access to me to ask questions, stay accountable, and receive guidance.
Customized Homework and Exercises to Help you Reach Your Desired Results: After each session, I will give you mini challenges to expand your growth edge because you won't change doing the same things you've always done.
BONUS: One Meditation Coaching Session
You'll receive one Subconscious Reprogramming Meditation Session designed to realign your thoughts and actions with your most magnetic, truest self.
BONUS: Customized Daily Practice
You'll receive a customized daily practice to help you make quantum leaps each day towards your desires.
BONUS: Free Access to All Masterclasses
Throughout the length of the program, you will have FREE access to all of Jennifer's monthly Masterclasses, where she will teach you how to overcome your biggest blocks.
3-Month and 6-Month Programs Available
This program is by application only.
A 20-minute Discovery Call will be scheduled once your application has been approved. 
"Jennifer is a genuinely caring person. Her ability to listen and ask thoughtful questions makes people feel very comfortable around her. Jennifer is a great leader and her ability to be vulnerable and guide women is truly a gift. I was impressed with her ability to see through to my true feelings just by hearing me talk about my story. And that was just in our first conversation!"
"Jennifer possesses visionary tendencies, eager to bring about positive change. She is equipped with curiosity, openly sharing her conviction to empower as many women who will listen. She has an innate ability to draw others in. She is a Truth Teller, speaking from a place that makes me feel valued, heard and appreciated."
"Working with Jennifer was a real gift! Her ability to not only listen deeply, but to ask thought-provoking questions and provide such helpful feedback gave me direction at a time I really needed it. She brings with her a wealth of experience, tools, and insight and helped me navigate my way to discover more of my authentic self. "
Jennifer has such a soulful way of tapping into just what my heart needs to hear at every particular moment. Her messages and trainings heal, soothe, and reassure what I deeply know to be true of my inner being. I adore the energy she puts out. Truly soulful and truly authentic.
"Jennifer is a very empathetic and warm-hearted coach. Every time she coaches me I grow a little bit more on a mental and a spiritual level. Often I come to surprising insights that I would not have expected. She knows exactly when to ask open questions and when to share an emotional observation to help me to realise so many things. It's a great experience every time and I highly recommend her for people who are looking for personal growth not only on the mental but also on the spiritual level."
"Jennifer is a very competent coach, created a safe space for me, listened to me attentively, and most importantly, asked powerful questions that stimulated me to reflect. I found her coaching to be very effective in raising my self-awareness, which led to self-growth. I definitely recommend Jennifer unreservedly if you are facing a life transition or other challenge."