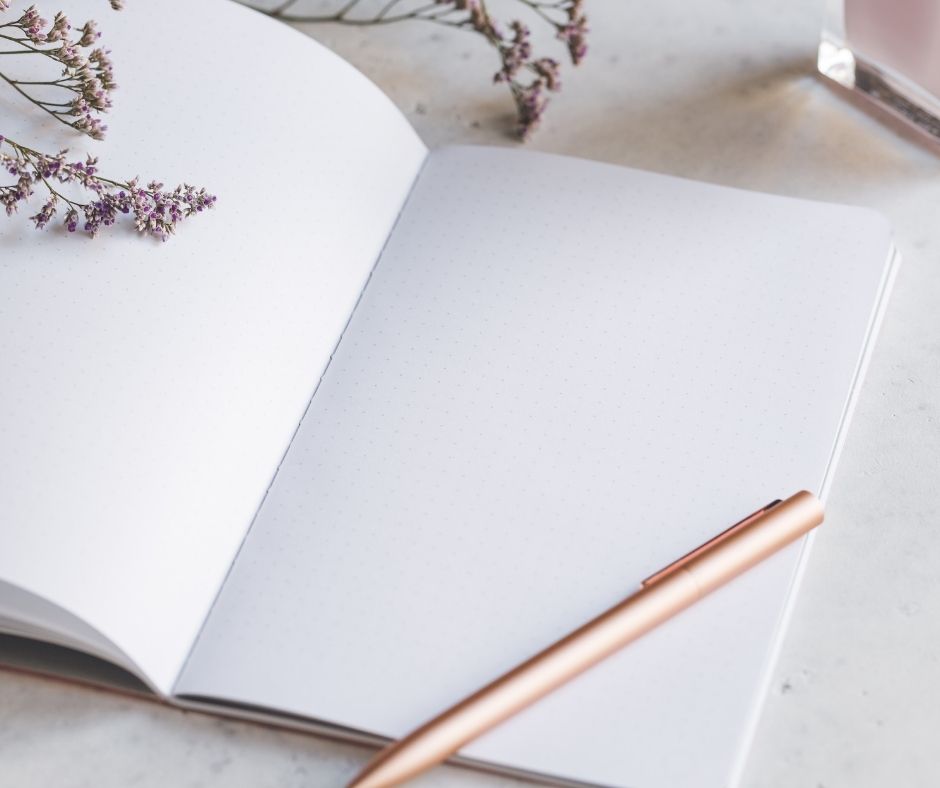 31 Journal Prompts to Connect with Your True Self
"There is no greater agony than bearing an untold story within you."  – Maya Angelou
"Ice skating is fun but the skates are uncomfortable. But that doesn't make me have an awful time."
Oh. My. Gosh.
I know I am a bit biased, but I swooned over those words when I recently read them. I wrote this in my first diary when I was 8 years old. 
I cherished my first diary and loved that I could write ANYTHING in it and lock it up for no one to see. I loved that it was covered with teddy bears AND hearts too. I mean, who wouldn't?!
This diary was the start of my journaling practice. The words that now fill my journal are much different, but the intention has always been the same – to express my true self without inhibition. 
Journaling allows us to express our uncensored feelings and truths in safe and empowering ways. Journaling honors our voice and nurtures our true self. 
Journaling helps us connect with our essence, and if we practice this consistently, we begin to align with we truly are. 
As we cultivate this part of ourselves, we often find the courage to carry our light out into the world and pursue our dreams. 
This has been true for me. I discovered my soul's purpose and manifested each of my dreams by first writing them in my journal. 
If you'd like to deepen your connection with yourself and find the courage to express your truth, pick up a pen and start writing.
Below, are 31 journaling prompts to connect with your essence and soul's purpose.
Write the prompt at the top of your page.
Set a timer for five minutes.
Write without stopping for the full five minutes.
Don't censor, edit, or stop. Simply write whatever comes up. 
I am…
I wish I could…
If only…
My soul wants to tell me…
My secret is…
I long to…
I am being called…
The truth I longed to hear when I was a young girl…
I believe that I…
Today is a new day…
The chains that have bound me…
If I was a bird…
My light…
My place in this world…
I am free…
This is my time to…
I feel…
My body…
I am ready to…
My comfort zone is…
What I really, really, really want to do is…
Something is beginning to emerge…
I have something to say to the world…
Yes, I can…
The little girl in me wants to…
It's time I walk away from…
Nature is trying to tell me…
My prayer is…
I need…
When I look at the moon and the stars, I am reminded…
Just like a tree, I too…
Life will pull us away from ourselves if we aren't intentional about staying connected. 
Journaling is such a powerful way to stay connected and reconnect with our souls.
So, tap into your truth and uncover your hidden desires.
Remember: Your voice matters. Your truth matters. You matter.
Craving More? Download your FREE 30 Days to Self-Love Journal. 
Fill out the form below and your journal will be delivered to your inbox.